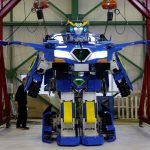 A new transforming robot called "J-deite RIDE" that transforms itself into a passenger vehicle, developed by Brave Robotics Inc, Asratec Corp and Sansei Technologies Inc, demonstrates during its unveiling at a factory near Tokyo, Japan, April 25, 2018. REUTERS/Toru Hanai
TOKYO (Reuters) – A Transformers-style, humanoid robot that can shape shift into a sports car in about 60 seconds was unveiled in Japan on Wednesday.
The "J-deite RIDE" robot is the brainchild of Kenji Ishida, CEO of Brave Robotics and a fan of anime movies featuring robots that could transform or combine with each other.
"I grew up believing that robots had to be capable of such things, which became my motivation to develop this robot," Ishida told Reuters Television.
The blue and white robot is 3.7-metres (12 feet) tall and can carry two passengers as it transforms into a car or humanoid form.
Some people may view the robot as an "expensive toy", but it was intended to inspire others, Ishida said.
The RIDE was co-developed with Asratec, a robot consulting firm, and amusement ride manufacturer Sansei Technologies.
(Reporting by Hyun Oh; Writing by Darren Schuettler)
Copyright 2018 Thomson Reuters. Click for Restrictions.