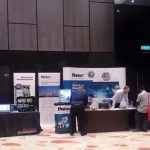 Another largest technological event in the country, Connected PNG Technology Summit 2018 commenced with exhibitions and tradeshow sessions at The Stanley Hotel & Suites in Port Moresby today (March 13).
The event saw various Technological vendors from both outside and within the country showcase their products as local companies and SMEs made networks.
The Event was launched in 2017 of which it saw many local participants, especially in the field of ICT, according to one of the host organisers.
The 3 days event is focused on helping technological companies and stakeholders to meet, collaborate and network in bringing technology in PNG to the next level. Much like last year's event, it looks at fostering community, emphasize collaborative design and celebrate a shift in business culture.
Some of the technological companies who were present during the exhibitions and tradeshows today include Dicker Data (Cisco Systems & Pure Storage), Rockwell Automation, Panduit International, Fluke Networks, JCS Technologies, Endress Hauser , Nexus Engineering Solutions PNG and Eaton Power Quality. Many local ICT companies, SMEs and Freelancers were there on the first day of the event.
The technological companies talked highly of their varieties of products and latest techs.
Mr Sean Branagan, SISCO Channel Business Development Manager spoke of CISCO's Spark and how this technology can change lives in PNG. He told EMTV Online, the CISCO Spark Board can replace whiteboards and blackboards in schools, hence making education much easier for students as well as teachers.
The summit will end on Thursday 15th March 2018, business houses.