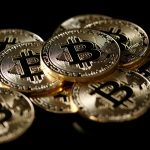 FILE PHOTO: A collection of Bitcoin (virtual currency) tokens are displayed in this picture illustration taken December 8, 2017. REUTERS/Benoit Tessier/Illustration/File Photo
By Shinichi Saoshiro
TOKYO (Reuters) – Cryptocurrency bitcoin tumbled below $14,000 briefly on the Bitstamp exchange <BTC=BTSP> on Friday, down roughly 30 percent from its record top near $20,000 set at the start of the week.
It was last down 7 percent at $14,499 but fell as much as 14.7 percent earlier in the Asian day.
The cryptocurrency, which was at about $1,000 at the year's start, had surged to a record high of $19,666 on Sunday in the lead up to exchange giant CME Group's launch of its bitcoin futures. It has since lost about a third of its value.
"Keep in mind that bitcoin has gone up a lot this year, so a correction is always likely," said Shane Chanel, equities and derivatives adviser at ASR Wealth Advisers in Sydney.
Bitcoin's success brought cryptocurrencies to the forefront and has also boosted the profile of its rivals, which offer alternatives to bitcoin.
"A lot of the capital is flowing from bitcoin into alternative coins. You've seen companies like Verge and Ripple, which are over 400 percent in the last week," Chanel at ASR Wealth Advisers said.
Verge and Ripple are among an array of cryptocurrencies that both emulate and compete with bitcoin.
Stephen Innes, head of trading in Asia-Pacific for retail FX broker Oanda in Singapore, said that there have also been moves out of bitcoin into Bitcoin Cash, a clone of the original cryptocurrency. Oanda does not handle trading in bitcoin.
"Most of it is unsophisticated retail traders getting burned badly," Innes said on bitcoin's recent retreat.
Bitcoin is known to go through wild swings. In November, it tumbled almost 30 percent in four days from $7,888 to $5,555. In September, it fell 40 percent from $4,979 to $2,972.
"Trading in bitcoin is akin to gambling, so its movements don't follow logical patterns," said Takashi Hiroki, chief strategist at Monex Securities in Tokyo.
"Unlike equities and bonds, it is not possible to calculate expected returns on bitcoin, so buying it becomes a gamble rather than an investment."
While CME and its rival Cboe Global Markets move to list bitcoin futures has given the digital currency some perceived legitimacy, some policymakers remain skeptical.
South Korea's Financial Supervisory Service said on Tuesday it does not consider bitcoin and other cryptocurrencies to be currencies of any kind.
Japanese Finance Minister Taro Aso said on Tuesday that bitcoin had not been proven as a credible currency.
(Reporting by Shinichi Saoshiro; Additional reporting by Masayuki Kitano in Singapore; Editing by Sam Holmes)