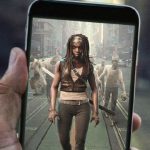 Image: A view of the Next Games game Walking Dead is sen in this handout released November 3, 2017. Next Games/Handout via Reuters


By Tuomas Forsell and Jussi Rosendahl
HELSINKI (Reuters) – Finnish game studio Next Games said on Friday it will launch a new augmented reality smartphone game in the coming months based on AMC Networks' hit TV show "Walking Dead".
The game, in which players fight zombies that are superimposed onto the real world on smartphone screens, is tapping into the trend of augmented reality (AR) which gained mass adoption last year with the release of Niantic Inc's Pokemon Go.
Next Games said the "Walking Dead: Our World" game, which it hopes will mirror Pokemon Go's success, will be available for test users on Apple's App Store and Google Play in selected regions by January before a wider release later next year.
The TV show tells the story of a world overrun by zombies, and the new game will use AR technology to let players battle the zombie characters in real world environments.
Based on the same show, Next Games has previously developed a mobile strategy game which has been downloaded by more than 16 million users.
"I have an optimistic view on (the new game's) potential. I expect this game to reach similar levels of revenue to their previous game," said analyst Jerker Salokivi at Evli brokerage, with a "hold" rating on the stock.
Shares in the company, which was listed in March, jumped more than 100 percent in August after the company released its first video trailer of the upcoming game.
The stock fell more than 7 percent on Friday as the company reported a loss from the first nine months of the year due to investments in game development.
Its sales from January to September rose 30 percent from a year ago to around 26 million euros ($30 million).
This year, Google and Apple have both released augmented reality applications for their devices to compete for the attention of customers and software developers building such games.
Pokemon Go, which has players walking around real life neighborhoods to catch and train creatures, has more than 750 million downloads.
"AR games … need to give the player a reason to look through their cameras, to change their surroundings into something else. With zombies, you don't luckily get to do it any other way," Next Games CEO Teemu Huuhtanen told Reuters in September.
In another recent AR initiative, Mattel and tech company Osmo launched an augmented reality version for "Hotwheels" toy car game.
(Editing by Emelia Sithole-Matarise)
Copyright 2017 Thomson Reuters. Click for Restrictions.