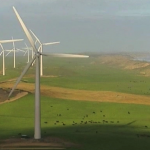 Electricity is considered a privilege that many in rural places do not have access to, and majority in the country source electricity from the only power supply company in the country.
While some rural areas utilise solar power technology and diesel powered generators as a source of electricity.
Wind energy technology is a different alternative to produce electricity; however, it is yet to be used in the country.
A Japanese global company is looking at establishing wind power energy technology in the country by distributing wind turbines.
A seminar was held this morning, introducing the item as another alternative source of electricity. It is an innovative technology for the country.
American based company Xzeres Small Wind Power System, has partnered with global trading company, Sojitz, to bring wind energy technology into the country.
This is the first time they are holding a seminar jointly facilitated by the Investment Promotion Authority.
The aim of the seminar was to promote their product as an alternative source of electricity that can be used in settings ranging from residential and micro-grid based rural electrification, agricultural, corporate infrastructure and government applications
The turbine systems focus on distributed energy, where a specific machine's energy output is used on site where the equipment is installed, as well as grid connected applications
This means their units meet globally accepted requirements of grid and off grid systems.
The units are classified as class 3 turbines, which works at a high wind speed of 60meters per second.
Xzeres Wind Design is a global designer of wind power systems which consists of wind turbines at 2.4 KW wind turbines and 10 KW wind turbines, and is currently operating in 110 countries
Meanwhile, Sojitz will provide training for Engineering Procurement Contractors which means job creation for locals.
Sojitz has been operating in the country since the 1970's and has experience in implementing clean energy projects.